The Wessex Violin XV
The Wessex Violin Company. English Instruments

Wessex Model XV Violin VI115/6
The Renaissance of a Tradition

Each instrument is individually labelled and is accompanied by a hand written Certificate of Authenticity, bearing photographs of the instrument.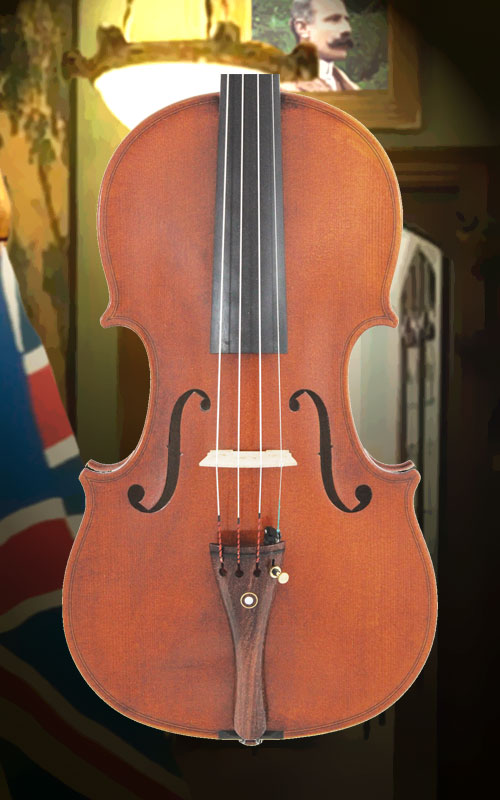 Building upon a tradition of English workshop craftsmanship lost since the middle of the last century. The United Kingdom can boast some of the finest individual makers in the world today and celebrates a history of excellence as epitomised by the tradition of the Newark School. Model XV Violin: Our first pattern in the Wessex Series.
These instruments are made from selected materials and have a robust sound. Featuring quality ebony, rosewood or boxwood fittings in French or English pattern. Despiau 'two tree' bridge fitted as standard.

The Body: Back in two pieces of figured Balkan maple with ribs and scroll in a similar wood. The table in two pieces of Bavarian spruce of narrow/medium-narrow grain. Varnish typically of a rich chestnut brown on a gold ground.
Typical measurements: LOB 356mm, UB 167mm, MB 117mm & LB 207mm
Made in England

The first commercially made English violin since 1939. Violin making in England has a strong heritage with celebrated makers such as William Forster, Thomas Kennedy, Benjamin Banks, the Hills, John Lott et al. produced fine instruments, especially cellos.
In the modern era Britain has some of the finest makers living, whose work is regularly sought after by soloists and professionals alike.
The Renaissance of a Tradition

The Wessex Violin Company logo is a registered trademark.

Please note that we are producers and distributors. Please contact us for retail options.
---
A Trading Name of
The Sound Post Limited, Jocelyn House, 2d Newopaul Way, Warminster, Wiltshire, BA12 8RY, United Kingdom
---